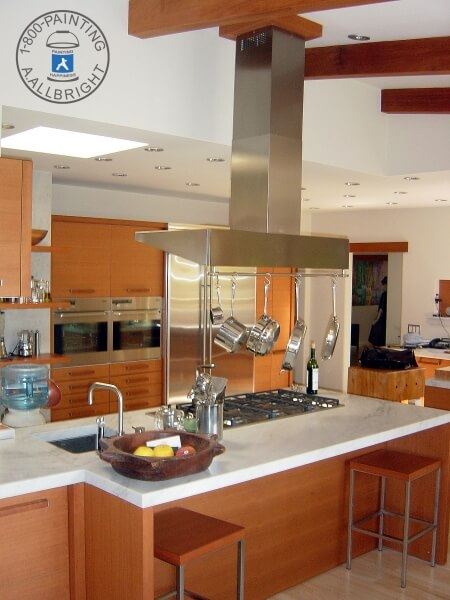 Ask any real estate professional the best way to increase a home's value and they will say 'Improve the kitchen and bathroom!' These two rooms are where we spend a great deal of time and their comfort, style and user-friendliness are key to how we rate them. Perhaps selling the house and moving on is not in the plan, but that's no reason for holding off on improving the interior. New kitchens don't come cheap, but a spruced up and improved kitchen can be realistically priced with the added benefit of introducing that real feel-good factor to the house again.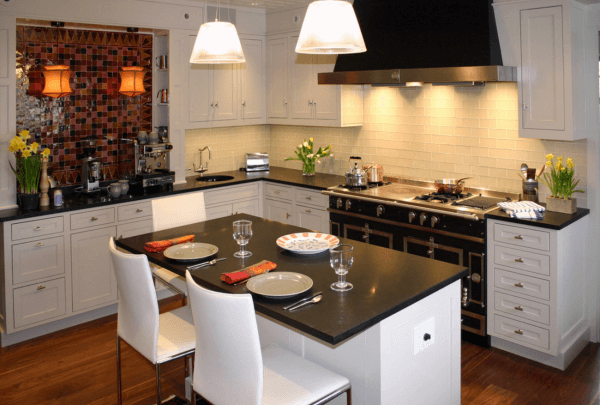 In the beginning
Where do we start when improving the kitchen? That all depends on what is there to begin with. If the bones of the kitchen are solid and the cabinets and storage are good, then a fresh coat of ALLBRiGHT 1-800-PAINTING quality kitchen paint can make them appear as new. Consider fitting new handles and hinges for a totally refreshed look. For a fantastic finish, professional painting contractors can apply bespoke products and achieve specialist finishes for an upscale look.
Replace and re-vamp
The tile in a kitchen are an obvious target for renewal when giving the room a facelift. Re-energize the space by fitting bright new wall tiles for a colorful kitchen, brimming with ALLBRiGHT sunshine and light. Or try for a sleek modern look with a custom cut stainless steel backsplash and countertops in colored glass, marble, granite or soapstone. Warm up a cold kitchen with earthy paint tones and tactile, wooden surfaces, such as oiled teak and dark oak, combined with natural accessories such as earthenware pottery and basketry.
Make it work
Remember to make a kitchen practical to use. Before deciding where appliances, sinks, countertops and storage are to go, think about how the kitchen is going to function. Will it be a hanging out space for the family? If so, ensure a dining and seating area is in the mix. Will it be a foodie's heaven, packed full with all the ingredients under the sun? If so, there had better be some pretty smart storage solutions planned.
Get in the zone
Open plan kitchens are the most popular lay out in modern homes. The social aspect of cooking is enhanced in kitchens with open expanses and wide vistas. Zoned areas, like breakfast bars, seating areas with soft furnishings and a large, communal dining table are all found in successful kitchen designs. Delineate areas by painting the walls in different shades, either contrasting colors or complementary shades from the same palette. Likewise, at floor level, practical easy clean materials work well in the cooking area where spills are likely. In chill-out areas, carpets, rugs or natural flooring offer both a visual separation and a more comfortable, welcoming atmosphere.
Let there be light (ALLBRiGHT)
A lighting re-design can bring a dull and tired kitchen out of the shadows and into ALLBRiGHT light. Check out some of the fantastic lighting treatments available for kitchens, including extravagant chandeliers, multicolored mood systems with pulsing colored lights or giant pendant shades lined up for maximum impact.
Fresh paint on walls and kitchen cabinets, new kitchen countertops, sparkling tiles, a sumptuous sink unit and a killer dining table – all perfect ingredients for the ultimate kitchen improvement recipe!
Bon appetit!