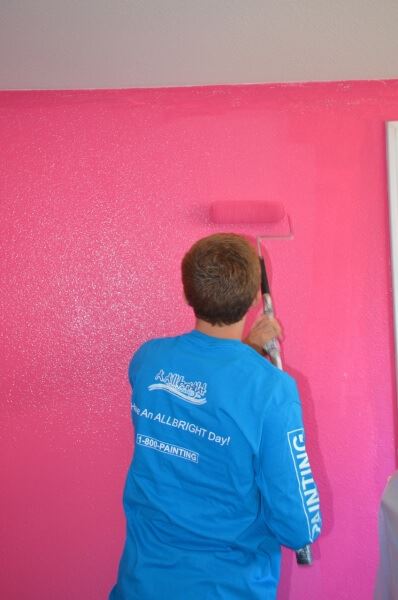 Paint Color? Check. Paint Sheen? Help!
We all know how fun it is to pick out paint colors for your home, but what about deciding which paint finishes to go with? Many people can get overwhelmed when selecting the correct paint finishes for their project, but ALLBRIGHT 1-800-PAINTING wants to help keep your project stress-free!
Before we get started, here is a little sheen poem to help you remember how it all works,
"The higher the sheen, the higher the shine will be, and the higher the shine, the easier it is to clean."
Flat finishes are the easiest to touch up and are excellent with hiding imperfections but they are hardest to clean. These finishes are great for adult bedrooms or other low traffic areas in your home.
Eggshell
True to its name, this finish will look just like the shell of an egg. Eggshell has better durability and cleans better than a flat finish. This finish is a great choice for living and dining rooms.
Satin
This pearly finish is easy to clean and works great for high traffic areas which are prone to getting scuffed and scratched such as hallways. We also recommend using satin for children and family rooms. Even though this finish is easy to clean, it is hard to touch up since any imperfection is easily noticed.
Semi-Gloss
The best sheen to use for your kitchen or bathroom walls is long-lasting and stain-resistant.  This finish is resistant to humidity and can withstand bumps and scuffs as well. Semi-gloss is also a great finish to use for doors, windows, baseboards, and crown moldings because of its high durability.
High-Gloss
High gloss is the easiest to clean and also the most durable of all the finishes. Sound too good to be true? Yes, because this sheen has too much shine for interior walls and should only be used for wood trim where you want a brilliant sheen with a lot of reflectivity such as cabinets. It is rarely used for walls because of its ultra-shiny appearance. This finish is the hardest to touch up since it highlights any imperfection.  Like ALLBRIGHT, high gloss sheen will really make your next painting project shine!