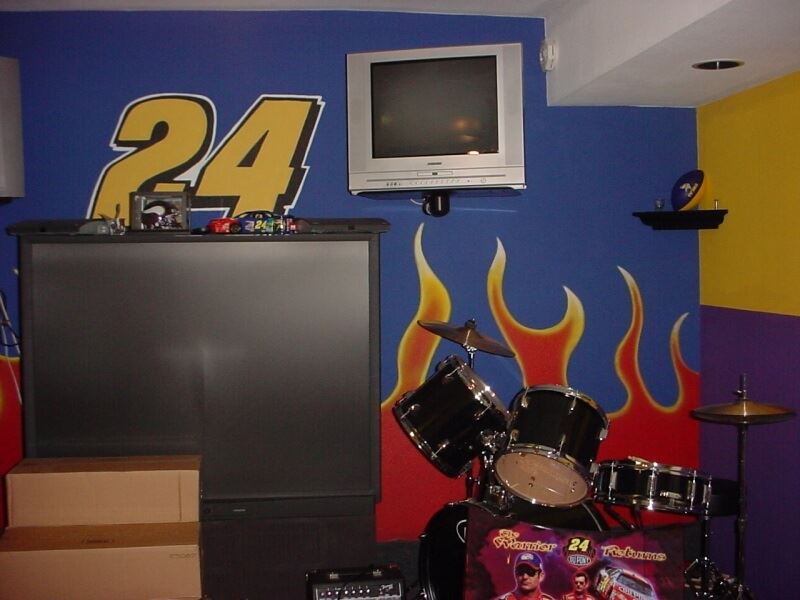 Most homeowners spend hours contemplating room makeovers for the kitchen, bathrooms, and living areas. Unfortunately, the garage or "extra room" makeover, which was intended to create space for "him" is low on the priority list. However, with March Madness looming on the horizon and spring training well underway, it is time to move the "man cave" makeover to the top of the list and create a room where the man of the house is truly the king of the world. Because of the year-round availability of college and professional sports, the "man cave" or the "sports viewing room" is becoming a popular addition to many homes and the professionals at ALLBRiGHT 1-800-PAINTING are available to help in this makeover process.
The paint color choices in these rooms are endless and many men (and women) will choose the colors of their favorite teams. Sports lovers in the Los Angeles area will have no trouble deciding on winning color combinations for this room. Whether choosing a bold blue paint with white trim to honor the Dodgers or an edgy purple and gold combination for the Lakers, there will be no mistaking the favored team! Of course, there are those who have multiple favorite teams and may want to choose rugged, neutral colors like forest green or brown (both of which are associated with the environment and nature), navy blue (a calming color), or a dark red shade (which evokes intensity and power). Whatever the color choice, the ALLBRiGHT 1-800-PAINTING professionals will work with the homeowner to carefully coordinate each color combination.
The ALLBRiGHT 1-800-PAINTING team will then properly prepare the walls before beginning the priming and painting process. Once the wall color of choice has been applied, consider creating a focal point. The large screen, wall-mounted television could be bordered by an accent color, or sports memorabilia could be encased in a cabinet painted in a striking complementary color or carefully stained in a dark wood stain.
Once the painting is complete, overstuffed chairs, pillows, game tables, sports jerseys, and photos can provide the finishing touches. The owner of this "man cave" will feel quite at home as he cheers on his favorite teams during March Madness or as the "boys of summer" take the field!