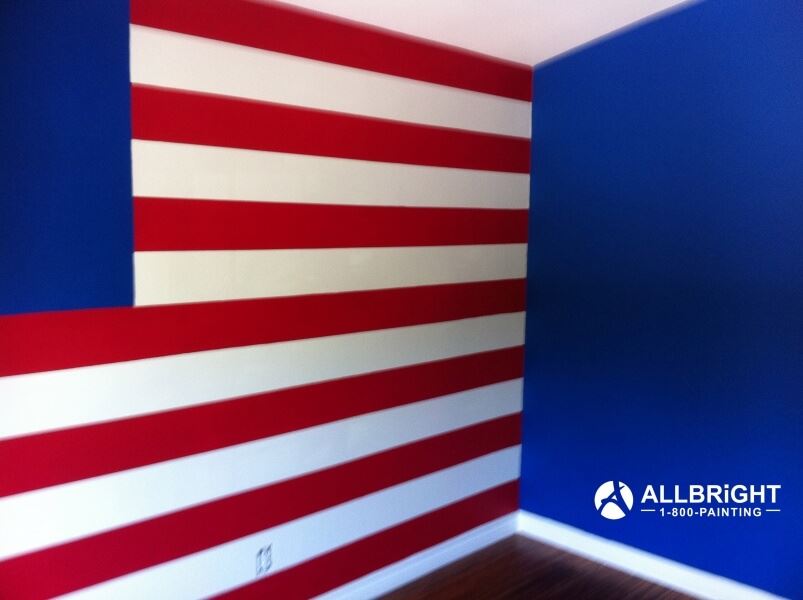 This summer is all about the exciting and unpredictable World Cup in Brazil and everyone at ALLBRIGHT 1-800-PAINTING has caught the World Cup Fever! Besides secretly taking off work to watching the games (it's okay, we won't tell) and painting your face with stars and stripes, there are other things you can do to show your support for the United States Men's National Soccer Team. Why not show your spirit by adding a splash of red, white, or ALLBRIGHT blue to your home? ALLBRIGHT 1-800-PAINTING will show you how beautifully balance these strong colors just in time for game day.
Pull the Red Card!
Take one for the team and pull a red card for your project. You might be thinking, "Isn't getting a red card a terrible thing?" Not in the game of painting! Red can be a strong color to decorate an entire room with but when balanced nicely with soft neutral accents you can turn skeptics into believers. One of our favorite shades of red belongs to Benjamin Moore's "Caliente AF-290." Don't let the name "caliente" scare you away. This red is easy on the eyes and pairs perfectly with neutral tones like gray, white, brown, and even navy blue. You will have your fans chanting "I believe that we love red" long after the games are over.
Cool Down With Blue
Blue is known for helping produce feelings of tranquility and peacefulness, perfect for unwinding after a heart-wrenching game. We recommend Benjamin Moore's "Deep Royal 2061-10" for a subtle and classic navy blue. This patriotic color is a great choice to paint a boy's bedroom or even a guest room. Use a bright shade of white for the trim to help lighten up the room and truly make it ALLBRIGHT! Navy blue and white will surely be a game-winning combination.
Substitute Red and Blue for White
If you are still a little skeptical about adding bold colors in your home then substitute your key red and blue players and give white a chance to shine. We recommend using "Extra White 7006" by Sherwin Williams. One of the easiest ways to incorporate the casual and cool Americana look into this room is by adding patriotic pops of color in pieces of furniture, floor mats, bedding, and even curtains.  The crowd will go your wild with your picks!