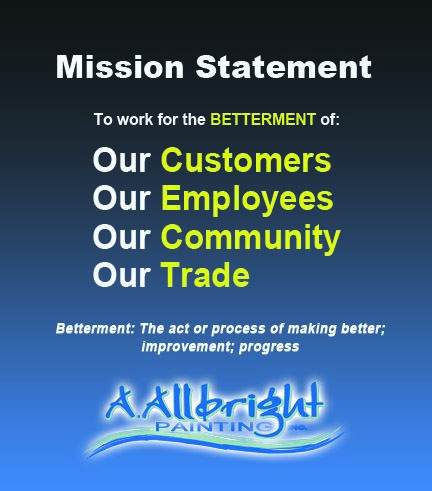 We think so. This document is more than just some written words on a piece of paper. To us, it's a living document, one that guides our actions, gives meaning to what we do, and helps us know that we are doing what is right. Most of us spend a lot of our time at work and the fact is, time is one of the most important gifts in life and we all want it to be spent well.
We want what we do to be meaningful and useful. Maybe there are some companies that put out a mission statement to just check off a box of things needed to have a good business, and that's fine if that's all it is, but that's not the case here with ALLBRiGHT 1-800-PAINTING. Our culture, since 1987, has always been one of progress, striving to be the best, and improving the way we do things, whether it be with customer service, employee training or painting, and never being okay with the standard way of doing things. Since the beginning, we have pushed ourselves to learn the newest painting techniques and tools. In fact, we have created some of the most innovative tools and techniques, like One Step Estimating and Colorchoice, to help our fellow painting contractors all across the nation. To see some of these tools we've created, go to ALLBRiGHT Products.
We have divided our mission statement into what we consider the top 4 categories.
We will seek the betterment of:
Our Customers
Our Employees
Our Community
Our Trade
Our Mission Statement
ALLBRIGHT 1-800-PAINTING's mission is to work for the betterment of:
Our Customers
By protecting & enhancing the beauty of their homes & businesses
By serving their needs with attentiveness & integrity
Our Employees
By providing continual professional development and a positive, satisfying work environment
Our Community
By donating our time, skills, energy and resources to invest in our local families and charities
Our Trade
By serving and mentoring in a way that sets the standard for professionalism, innovation, and teamwork
Betterment: The act or process of making better; improvement; progress.
Everything we do relates to one of the categories in our mission statement and we judge our actions against this.
With that said, we will continue to look for ways to even improve our mission statement. If you have any suggestions, please let us know. We will listen.