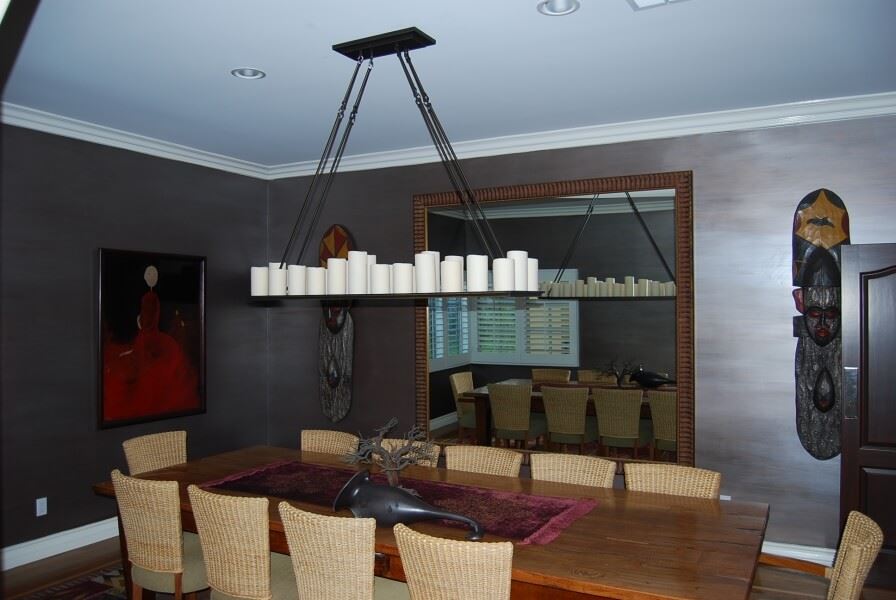 Spring is in the air and the homeowner's thoughts often turn to clean, fixing, repairing, and updating. This is always an excellent time of the year to consider repainting and to add a special shimmer in any room, metallic paint could be the right choice. Today's metallic paints are available from various manufacturers and offer durability while creating beautiful, shiny finishes. Metallic paint offers shimmer and softness to the normally dull, flat wall surfaces, and with the right kind of lighting, the walls appear to have a translucent glow.
The application of the metallic paint can be tricky and the professional painters at ALLBRiGHT 1-800-PAINTING should be contacted in order to guarantee the best coverage. Metallic paints are semi-translucent paints and do not cover the walls the same as other latex and oil-base paint products. There is a lack of "opacity," (degree of transparency) in the metallic paints, which allows the metal flakes and pearl particles in the paint to be visible, but this can cause uneven coverage if not applied correctly. Some paint manufacturers even recommend special equipment and rollers in order to help the novice painter in their home makeover.
Before beginning the paint application, the ALLBRiGHT 1-800-PAINTING painters will inspect the walls for defects, as metallic paint will show every imperfection in the surface of the walls. They will repair and sand, as necessary, to guarantee the cleanest surface possible. The paint application should include a basecoat and, if the homeowner desires a "bold" look to the walls, a colored metallic paint can serve as the basecoat and will provide a dramatic look. However, for a softer, more subtle look, the experts at ALLBRiGHT 1-800-PAINTINGmay apply a single, non-metallic latex base-coat and then finish with the translucent metallic paint. Once the basecoat and topcoats have been applied, a faux finish such as combing, ragging, or the "hammered" look could complete the wall transformation.
For information about metallic paints and other paint products, faux finishes, and color choices, call the paint professionals at ALLBRiGHT 1-800-PAINTING Painting.
ALLBRiGHT 1-800-PAINTING Painting is located in Valencia CA and provides complete interior and exterior house painting services to Los Angeles, Beverly Hills, Hollywood, Valencia and the Santa Clarita Valley areas.