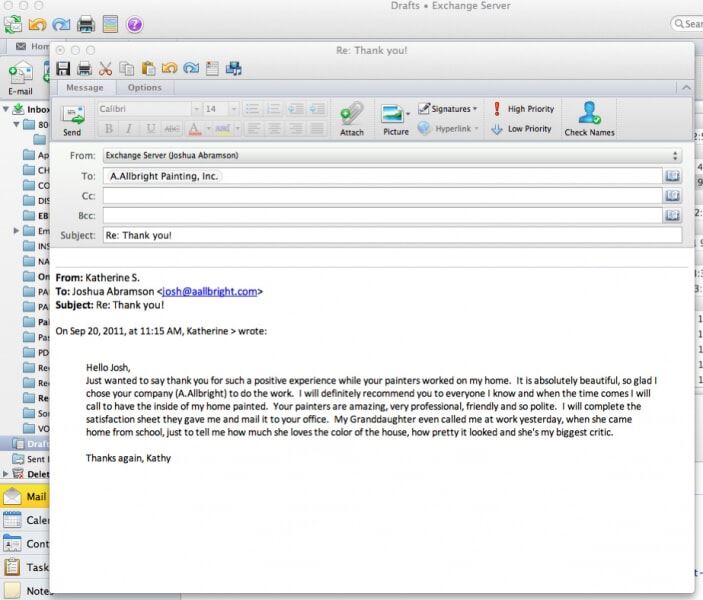 Oh how a little note from a satisfied client can make us feel. We love getting emails like this.  It's encouraging and it lets us know we are doing exactly what we promise.
This week we received an email from a satisfied client in Santa Clarita after we painted the exterior of her home. She sent this to us just because she wanted everyone to know about her experience with ALLBRiGHT 1-800-PAINTING 1-800-PAINTING.
Here is what she wrote:
Hello Josh,

"Just wanted to say thank you for such a positive experience while your painters worked on my home. It is absolutely beautiful, so glad I chose your company (A.Allbright) to do the work. I will definitely recommend you to everyone I know and when the time comes I will call to have the inside of my home painted. Your painters are amazing, very professional, friendly and so polite. I will complete the satisfaction sheet they gave me and mail it to your office. My Granddaughter even called me at work yesterday, when she came home from school, just to tell me how much she loves the color of the house, how pretty it looked and she's my biggest critic."

Thanks again, Kathy
This has been our goal since 1987: Make every customer so happy that they will recommend and promote ALLBRiGHT 1-800-PAINTING1-800-PAINTING to a friend or colleague 100% of the time.
Expect Brilliance!