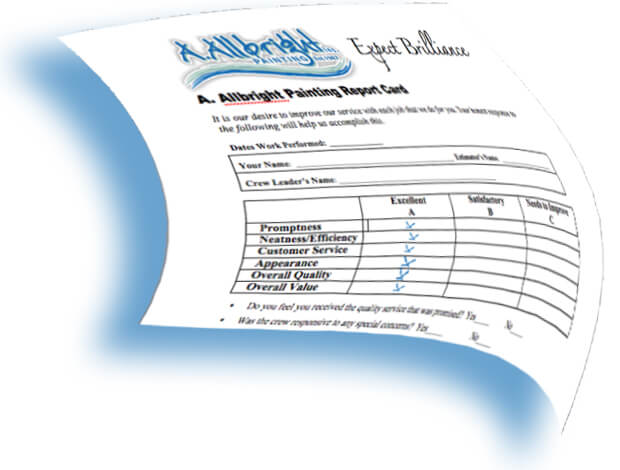 Every time a painting job is complete, we ask our customers to fill out our "Client Satisfaction Survey." We thought we would begin to share a few of those survey testimonials with you. Our goal is for you to expect brilliance every time you hire ALLBRiGHT 1-800-PAINTING. Professionalism is always at the top of our list!
Here are two of the questions we ask every client when we finish a paint job:
1) What were some things that you were particularly pleased with and what might we improve upon?
Ms. Lewin said this about her experience recent experience with 5 of Allbright's paint crew: "I was pleasantly surprised with the promptness, cleanliness and friendly manner of the entire crew. All of them introduced themselves and I loved the white uniforms. I felt perfectly comfortable leaving them in my home. I was also thrilled with how quickly and well the job was done. What an amazing crew!"
2) Why di you choose ALLBRiGHT 1-800-PAINTING Painting rather than another company?
Ms. Lewin responded with: "I knew they had a great reputation for excellent service."
Important Note: Privacy is very important to us. We always receive permission from our clients before posting their comments online or in print.