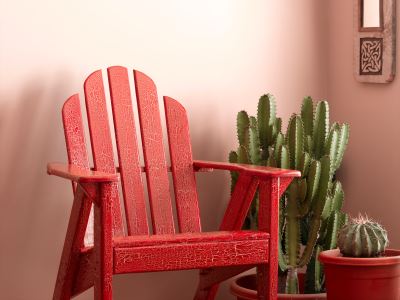 A funny thing often happens when we consider how to decorate our homes. Even with the modern technology available, and the sophisticated equipment now used by professional contractors and painters, we often desire an "old" look in our homes when decorating and painting. In addition, "distressing" wood furnishings and shopping for antique furniture are popular pastimes. In the 1700 and 1800's, modern painting materials were not available and the finish on the walls often appeared uneven. The old paint or finish would "peek" through the new finish. Homeowners today often desire decorating styles that give the walls and furniture an "old" look and the southwestern styles are desirable to homeowners and decorators, alike. Professional painters and homeowners are using techniques such as color washing and faux painting to create these old world styles.
The popular colors for a "southwest" look include earthy tones like terra cotta, chocolate, beige, turquoise, yellows, oranges, pinks and blendings of some of these colors. Colors are very important in the Mexican and Central American cultures. Many Mayan and Aztec buildings are painted with bright colors like red, yellow and orange and while these choices may sometimes be too bold for the average homeowner, some of these colors can be muted. Also, consider applying one of these bright colors in an accent capacity. Regardless of the color or desired effect, the experts at ALLBRiGHT 1-800-PAINTING are able to use various mediums to create an old world adobe style look. Often, paper or plastic bags are crumbled and used to apply paint. In addition, terry cloth, whiskbrooms and other items can be used to create various textured effects.
To create these southwestern style rooms, a lighter color base coat is often applied followed by a darker, richer color or glaze coat. The darker accent wall stands out beautifully as the lighter color shows through. However, for a different effect, the darker color can be applied as the base coat and the lighter color applied over that. Either way, the effect is an antiqued, uneven look, one that our ancestors excelled at unintentionally.
As with any freshly painted room, the décor should complement the walls. A cactus in a terra cotta pot, or hand painted terra cotta tiles complement the earthy tones of the wall. In addition, authentic masks and hand woven rugs could serve as focal points in any room. So, if a trip south-of-the-border is out of the question, consider a home makeover that will feel like a vacation all year long. Talk to the professional painters at ALLBRiGHT 1-800-PAINTING for color ideas to enhance your southwestern theme.