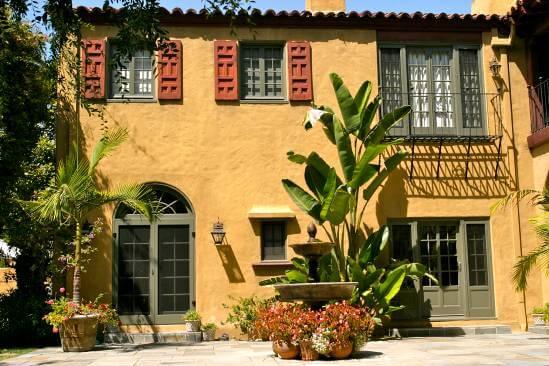 We're proud to announce that we were once again selected as the painting contractor to paint another magnificent 1920's English Tudor. The new owners (David and Juliah – a wonderful young couple) recently acquired this home in a dilapidated state. When discussing the project with them, they explained that the home needs a lot of care. They told me how they're having the brick re-pointed and that they had just completed some hardscape work together over the past couple of weekends. Juliah has been adding a lot of nutrients to the soil preparing for her mother's visit from Canada to help her with the spring planting around the front of the home. Julia is currently enrolled in the UCLA Architecture and Interior Design program and has been toiling over which paint color from Farrow & Ball will be right for the trim of the home. They're not real fond of the current deep Forest Green trim color that's on the wood trim and metal windows now. The two colors they are considering are F&B Mahogany 36 or Tanner's Brown 225. With that in mind, I drove them over to see another 1920's English Tutor home on S. Irving in Hancock Park that we completed in 2010 because the home was almost an exact replica of their home. We had painted the trim in a similar color. This really helped them visualize what their home will look like with the new color. We will be applying Farrow and Ball's Exterior Masonry & Eggshell Paint and Primers. This paint is roughly four times the amount of typical exterior paints. Farrow and Ball are known for their deep rich colors and their's high-quality.
We start their project next week
Stay tuned for some "after" pictures to see the transformation.