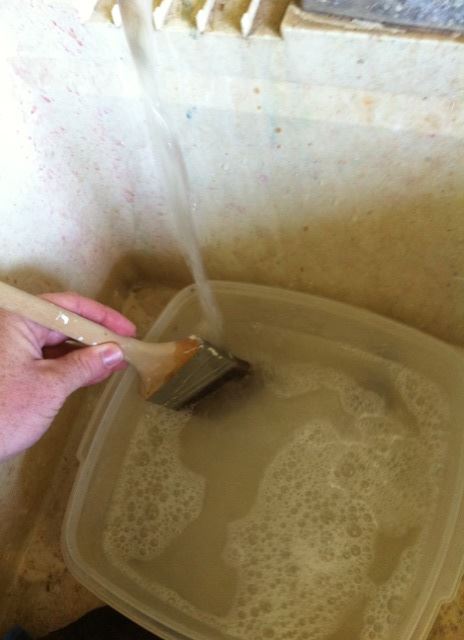 Painting can be a messy endeavor. Clothes, carpet and paint equipment can all become soiled with paint drops and dust. Often, when completing a "do it yourself" project, the homeowner may neglect the final stage…properly cleaning the equipment. However, the professionals at ALLBRiGHT 1-800-PAINTING provide an ordered, clean experience for the homeowner, carefully preparing the work surfaces before painting and returning all rooms to their"pre-paint," clean appearance after the work is complete.
If you are completing a "do it yourself" project, it is important to thoroughly clean all brushes, buckets, and rollers when you have finished with a particular color. If oil-base paint was used, clean equipment with paint thinner. Soak first and then clean with the paint thinner. Make sure you dispose of the paint thinner properly (recycling centers). Rinse with water to get rid of the chemical smell.
For water-based paints, clean with warm soapy water and dry thoroughly. Once everything is dry, store supplies in a cool dry cabinet or move to your next color. It is wise to use drop cloths and to clean up paint drops or spills immediately as they occur. Removing paint from your clothing can be a difficult task, so use clothing you don't mind getting paint on at times.
Before touching up the paint or scraping paint from windows, allow the paint to dry thoroughly. Overnight is best and then carefully tend to the surfaces. Painters tape should be removed before paint is dry to avoid pulling the paint off the wall.
Using these tips will make your paint experience more enjoyable. If you would rather avoid the mess, preparation and clean up, contact the experts at ALLBRiGHT 1-800-PAINTING
If you need help, try an ALLBRiGHT 1-800-PAINTING Painting Party!