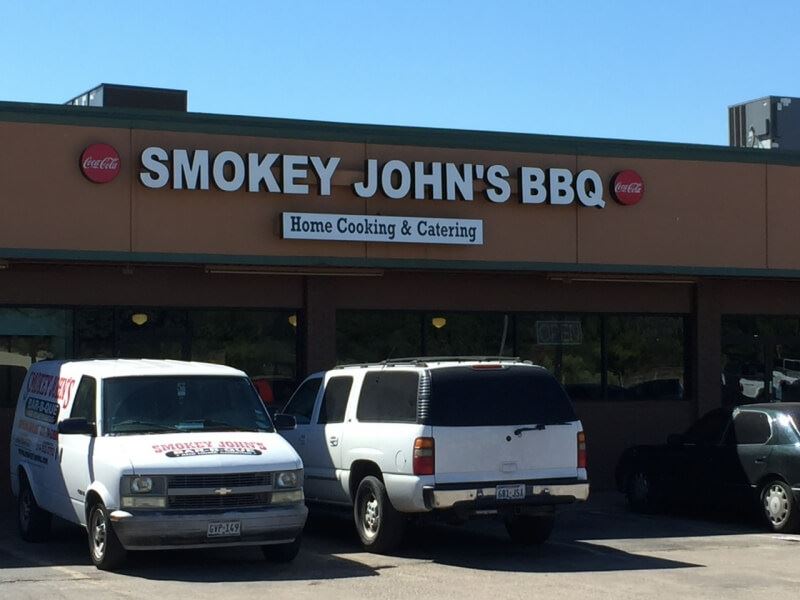 Today I was once again struck with how great this country is that we live in. There have been a few times in my life that I can distinctly remember having this feeling, and today was one of those days. It all started when I stopped for lunch at Smokey John's BBQ. I had stopped to eat lunch there once before (about a year ago) and I was looking forward to eating there again. I remember the first time I came across this place (next to the Love Field Airport in Dallas) because I remember being a little nervous about it. I don't know if it was because of the seedy surrounding businesses in and around the strip mall where it's located or the sign that said "Smokey John's BBQ and Ruth's Tamales."  I thought, this is a risk and these items don't really go together.  Anyway, I remember walking in and being in absolute awe of the wonderful BBQ smells and friendly staff helping me decide on all the home-cooked items that were before me. I remembered they generously gave me extra BBQ meats and sides for me to try, even though I didn't pay for them. I also loved the modest and simple atmosphere with its cafeteria-style and paper towel rolls on every table. 

So knowing that I would be in the area again to speak to the local painting contractors in Texas to help them grow their business through Sherwin-Williams Paint Company Painting Conferences, I knew I had to try and stop by there again for lunch before my trip home.  In fact, I actually planned my trip to fly out of the "other" airport that was 30 minutes further away just so I could try and make it for lunch. I'm so glad I did. Today I met one of John's sons. His name is Brent. At the time, I didn't know who he was, but I noticed this nice young man working, cleaning the tables, greeting people in his apron and he just had a great attitude. I think he also heard me and my enthusiasm for what I should try this time. He came up to me when I was just about finished eating (including the little extra sausage that the meat carver put on my plate that I didn't order) and asked me how I liked it.  We got to talking and I learned so much in our 6-minute conversation that it made my detoured trip so worth it.  
During our conversation, I found out that Brent and his brother had taken over the operations of the restaurant since their mom passed away 4 years ago. I learned that Brent had been bussing tables there since he was 6 years old. He seemed like he was in his late 20's now. He told me how important it was for his dad to have his son learn from starting at the bottom and to learn all the different positions so that he would understand the struggle and have compassion for all the employees. That was so nice to hear. I told Brent that I'm starting to do the same with my sons and how my youngest son Noah has been saying he wants to join the company soon. Brent said he had always known he wanted to run the family business since he was 7.  Brent also told me he got his degree in hotel and service hospitality.  
Within a few minutes, I told him how I thought it was a good move to remove the "& Ruth's Tamales" from the sign that was out there last year.  He went on to tell me the story of Ruth. She's a little 80-year-old woman who started a little tamale-making business out of her home and he told me how a couple of her employees had robbed her, beat her up, and left her for dead. His dad had heard about this through a mutual friend and he reached out to help her. He offered her a small space in his restaurant so that she could safely make her homemade tamales and not have to worry anymore. Even though they changed the sign back to Smokey John's BBQ, she still makes tamales and has quite the following. 
This giving spirit is so evident in all who work there, from the owner to the busboy and everyone in between. To further prove my observation and to my surprise, when I went to purchase their homemade seasonings and BBQ rub, Brent said, "Here, it's on the house."  It's so obvious that the true culture of this business has been passed down from Smokey John himself. 
I went on to ask Brent what he envisions for the future of the restaurant and he told me that since he and his brother took over the operations, they have quadrupled their profits with catering and getting into the state fair and continuing to offer the friendly service and great soul food they have come to be known for. He also told me he has a goal of opening up 5 more stores and he will work hard to get them all profitable within 18 months of their opening. I believe he will. 
I then asked him what he thinks is the reason for the success they've had.  After naming a couple of things, he said, "Man, you know what I honestly think it is?  I think it's God!" I said, "I couldn't agree with you more, brother."  Brent is an amazing individual with wisdom beyond his years, and even though my boys are younger than he is, I hope and pray that I will be able to pass on these important principles to my family and that ALLBRIGHT 1-800-PAINTING will continue to have a similar culture like Smokey John's BBQ.
Lastly, I asked him if he had written out any of his plans yet.  He said he hadn't. We exchanged business cards. I will be reaching out to him to offer my help. 
What I Learned In 6 Minutes While Eating At A Little BBQ Joint In Texas
I learned that a company's culture is so important to its success and it's so evident that it starts at the top.  It's got to be real and it's got to be real to the people who work within it. 
I learned how a father can pass on more than a business to his sons.  He can also pass on what is good about life and how to use the talents we've been given to make our communities better. 
I learned why it's important to start from the bottom so you can understand and have compassion for everyone. 
I learned that the American Dream is still alive and well.
I learned that if you use your business to help others, it doesn't matter what is surrounding you; you can rise above it.  
I learned that if you put God first, He can bless you beyond your wildest dreams (even in the midst of uncertainty and your surroundings). 
Smokey John's has truly put the "soul" into soul food!  (Sorry for the cheesy line, but that's just me).
Have an ALLBRIGHT Day!