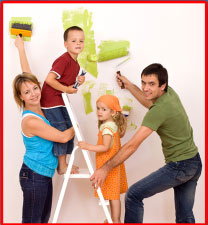 If finances, time restraints or just the motivation to "do it yourself" sends you to the paint store for paint and supplies, here are some tips to help you create beautiful walls.
First, clear out the room as much as possible. The more room to work, the better. Cover any leftover furniture so that paint drops don't leave a new, undesired effect on your furniture. Next, carefully examine your walls and look for cracks, holes and dents. Use painter's putty or a lightweight spackle for minor patch work and carefully cover these indentations. Allow the spackle sufficient time to dry. Once dry, carefully sand the walls and reinspect for any leftover marks on the wall. If the holes you patched are larger than the size of a nail hole, a little primer over the patch is a good idea. One step that is almost always forgotten by the homeowner is to carefully wash the walls with a mild cleaner to remove the dust and stains. This is not always necessary but is a good suggestion if the walls have not been painted in quite a while.
Finally, if you are going to tape, use the painter's blue tape* because it is easier to remove. For extra delicate surfaces, like cabinets, murals or faux finishes, invest in the 3M orange-core blue tape. If using tape, make sure to remove the tape soon after painting because once it dries, it could create peeling when lifting tape from dry paint. Most professionals recommend "cutting" in the paint where the wall meets the ceiling or wood trim instead of using tape.
Once you have followed the above tips, you are ready to create your masterpiece. Use clean rollers and brushes and always have soap and water near to remove unwanted paint from carpet or surfaces. One final word of advice, if you live in the Los Angeles area and need extra assistance, you should check out ALLBRiGHT 1-800-PAINTING's Painting Parties.