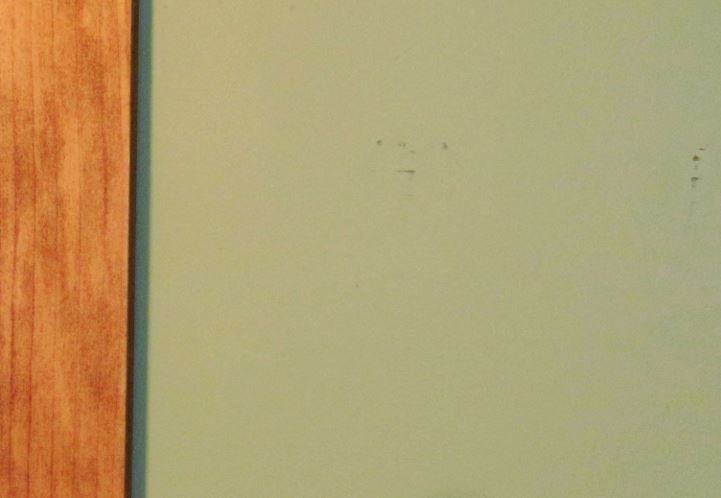 Two of our typical modern maxims are thoroughly relevant to interior painting: "nothing lasts forever" and "accidents happen." Our beautifully painted walls tend to end up with nicks, scrapes, scuffs blemishes far sooner than we hoped. Once they're there, something in us refuses to see the beauty of the rest of the wall, intensely annoyed by the flaw that shouldn't be there. Naturally, this leaves homeowners wondering, "Can I touch up the paint on that wall?"
If you have a scuff on your wall, try removing it with a magic eraser or a slightly damp cloth. With luck, the scuffs will come right off, leaving the wall as it was. Higher sheens of paint will hold up to scrubbing better than flat or matte finishes.
Touching up the paint on a blemished wall is very difficult to do well. There are only really two circumstances when it can be done with good results:
On flat paint that is not too old
On very minor flaws that are not in obvious locations.
In any other circumstances, the touched up location is not going to blend in with the rest of the wall, and the result may look worse than the blemish ever did. This means that in most cases, the best solution for a blemished wall is simply to repaint it from "break to break." A break is any place where a section of wall ends, such as in a corner or at the moldings (chair rail, crown molding, baseboards). This will disguise the seam between the new paint and the old. If the problem area is on a piece of trim or molding, just paint the single piece from end to end.
On a wall that has been painted with a flat finish and has not faded, it is possible to touch up just the affected area. Make sure you use the exact same can of paint since a different can will not match. Use a small foam roller or similar tool to apply a minimal amount of paint. Try to contain the new paint within the smallest area possible, and feather the edges rather than stopping abruptly.
Another option for very small blemishes in inconspicuous locations is to use a toothpick or a very fine artist's brush. Use a tiny amount of paint and apply it directly to the flaw. Be careful not to get any paint on the surface around the problem you are seeking to correct.
If you are still happy with the colors and design of your home, but you have some walls that need a touch up, ALLBRiGHT 1-800-PAINTING's Painter for a Day program can be the perfect solution. Hire an expert painter to spend a full day taking care of your Los Angeles area home, touching up or repainting damages walls and trim. You would be amazed at the difference one of our painters can make in a day!
ALLBRiGHT 1-800-PAINTING serves the Santa Clarita Valley and the Los Angeles area, offering premium painting services for discerning homeowners. Call us for a free estimate, and we'll be delighted to discuss your project ideas with you.