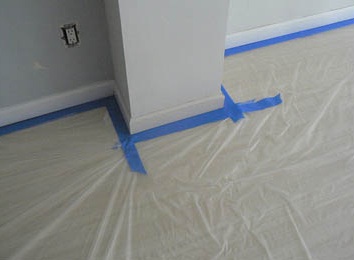 In order to achieve excellent painting results and protect your home from accidental damage, it is important to know how to prepare a room for painting. As a professional painting contractor working in high-end homes, ALLBRiGHT is well-experienced in room preparation, so we can share a few handy tips with you.
First, remove any large furniture items that you can to keep them completely safe and out of the way. If there is anything too large or heavy to move out of the room, you can reposition it in the center of the room and cover it with an old sheet or dropcloth.
Next, remove all pictures, mirrors and decorations from the walls. Pull out any nails or hooks that they are hanging on, and store the items carefully in a place where they will not get in your way. If you have any wall-mounted light fixtures and you are able to remove them safely, this is preferable. If not, carefully use painters (masking) tape to cover the parts nearest the wall, and tape plastic over the rest of the fixture to protect it from drips.
One easy but commonly overlooked step is to use a screwdriver to remove the wall plates surrounding light switches and outlet covers, and then use tape to cover the switches and outlets. Also remove or tape doorknobs and hardware.
Finally, protect your floor. Spread dropcloths or tarps to cover the whole floor, and not just the section nearest the wall. This way you are protected against all unexpected drips, splashes and spills. If you have carpets, use a wide strip of tape to cover the carpet along the edge of the baseboard, and use a putty knife to tuck the taped carpet under the baseboard.
Now you are ready to prepare your walls and paint! Oh, and by the way, you might want to lock up your pets!
Painting contractors generally spend more time preparing a job than actually painting, between protecting non-painted surfaces, filling, sanding and priming. The key to a professional looking paint job is to be meticulous with the preparations. Here at ALLBRiGHT 1-800-PAINTING we pride ourselves in our painstaking preparations that create a truly spectacular look when finished. If you are ever in need of a professional painting service, call us for excellent service and inspiring results.
ALLBRiGHT 1-800-PAINTING provides professional painting services for the Santa Clarita Valley and the whole Los Angeles region.