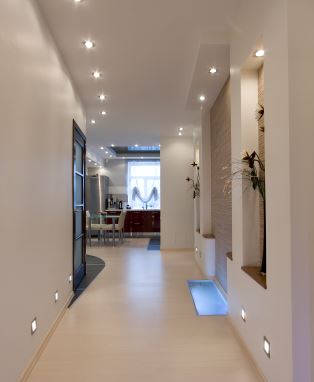 Room makeovers have become a popular option for homeowners. "How to" decorating shows are receiving high ratings and hardware stores are seeing greater traffic in the paint and wallpaper departments. Homeowners spend hours choosing just the right colors and designing the perfect room. But after the professional painters at ALLBRiGHT 1-800-PAINTING have completed their work and have moved the last piece of furniture back into place, the homeowner's job is just beginning. In order for those walls to stay in their perfect, pristine state, you must be vigilant in taking care of them. Several easy steps will guarantee their fresh look for years to come.
The first step should actually already be done. When selecting paint, carefully consider the type of paint for the room (high-traffic room vs. low-traffic room). Gloss and semi-gloss are easier to clean, but matte and satin finishes are often preferred in bedrooms and living spaces. ALLBRiGHT 1-800-PAINTING Painting can help you choose the right paint for the room. The second step is to try to prevent marks and dirt from staining the walls. Chair railing, wainscoting, and baseboards can all help to hide marks or prevent future marks. When hanging artwork, affix a small piece of rolled painters tape to the back of the frame. It will keep the frame from shifting and creating scratch marks. Third, keep touch up paint on hand. Mark the paint can well and place it in a cool dry environment. Also, keep small, clean paint brushes on hand so they are available when needed. Remember that over time, paint color can change slightly and the touch up might be slightly different than the original color. To minimize the color difference, slightly dab a minimal amount of paint onto the wall (an artist brush works great too). The fourth step involves learning how to carefully wash those beautiful walls! Use some warm water with a sponge and gently wipe over the walls, rinsing well. Start at the bottom of the walls, and thoroughly wring out the cloth. Water running down walls can create marks, so carefully wash and dry the walls. For tough marks, use a small amount of baking soda, but rub gently over the stain. Most marks will disappear with a little cleaning and the walls will have a fresh look! And finally, remember that starting with premium paint on your walls will give you a better value for your money. Premium paint allows for easier cleaning and better touch up! Keeping your walls clean and mark-free will create a beautiful backdrop to that beautiful room!
If touching up your walls does not work or you feel it is time for a paint job, A Allbright has a special program called a "Painter For a Day" in which they send a professional Allbright painter to your home for up to 8 hours. Our efficient painter can get quite a bit done in 1 day. So keep this program in mind. To learn more, visit our Painter For a Day page.