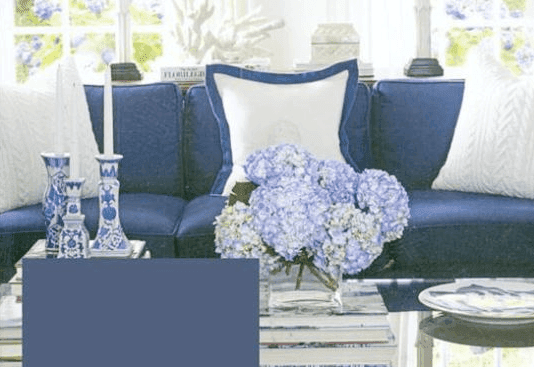 For the first featured Color of the Month, it seems fitting to choose one of the most popular colors in America. Through all of its hues and shades, from baby blue, Bluebird, Turquoise, and the deep blues seen here, blue is proven to be the most popular color. It also represents strength, deep courage, and insight. As a small get a well token to Jud Masters, a wonderful member of the Allbright team, the first-ever Allbright Color Of The Month is Judson Blue AB235. This is a strong shade of blue that connotes all of the values inherent in this most popular color, a deep blue that possesses depth, but also vitality.
Team Judson Blue with Allbright Collection Baby Breathe AB 131 for a warm contrast. And to switch things up, why not paint the trim of Judson Blue walls in Overcast AB 142, a soft grey-blue, for a subtle contrast that adds warmth – instead of a stark white trim detailing. Or go to Saddle Brown AB 188 for a rich chestnut tone that works well together as an accent wall, or if it is introduced as pieces of furniture in warm wood tones. It is a truly versatile color.
Wishing Jud, from all of us at Allbright, a safe and speedy recovery from his surgery and look forward to seeing him back on his feet very soon.